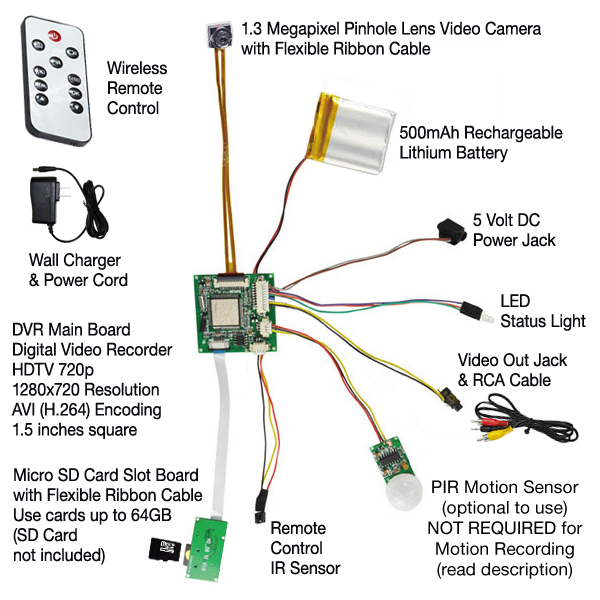 DVR PRO Series DIY Hidden Spy Camera Kit - Make almost anything into a hidden camera yourself!

All Components are separated from the Main Board
The camera, power jack, video jack, IR remote sensor, PIR motion sensor, status LED, battery, and the Micro SD Card Slot are all connected to the main board with long flexible cables. Having each component separated makes it much easier to mount the camera and each component where it is desired.

High Quality Video
1.3 MegaPixel CMOS Camera with 1280x720 Video Resolution delivers a true pro-grade image in conjunction with the built-in DVR that features H.264 video encoding for the best video quality possible.

Hide it Yourself
It can be used as a normal video camera or security camera. Built-in mounting points allow you to attach it with to any surface using small screws or other mounting hardware (not included). The camera is smaller than a fingernail and attaches to the main board with a flexible ribbon cable. It has a pinhole lens with a wide field of view. Only the pinhole lens needs to be exposed. The camera could be further concealed by placing it behind other items with a just a small hole for the lens to see through.

PRO Series Built-in DVR Video Recorder
Advanced DVR recording functions with on-screen-setup menus make it easy to configure the options. The video is recorded internally to a removable Micro SD memory card (sold separately). Works with up to 256GB Micro SD cards. Video storage is approximately 2.5GB per hour of video recorded.

Never run out of recording space
When full this model can overwrite or "re-cycle". In this mode when the SD card is full the oldest video is deleted to make room for the newest recordings so you will always have the latest video available for review.
FULL-TIME POWER and/or BATTERY POWER
Includes a 5 VDC Wall Power cord that can provide full-time power and/or charge the battery. The built-in battery can be used to power the camera or as a backup battery. When the power cord is used for main camera power the battery will recharge until full and it will function as a backup battery if the main power goes out.
MOTION DETECTION RECORDING MODE
Both the Lite and Pro Series have video-based motion-activated recording mode. This type of motion detection saves some battery life when it isn't actively recording, but the battery still drains fairly quickly because the camera is always on. The camera needs to stay on to detect motion by "watching" to see if anything is moving in the video. The video recording is triggered instantly when any motion is detected in the video.
NEW! PIR MOTION MODE + SUPER LIFE BATTERY = BATTERY POWER FOR UP TO 100 DAYS!
Using PIR motion sensor mode and the (optional) Super-Life built-in battery the PRO Series model will work for up to 100 days in standby mode with the reserve power to record up to 12 hours of video when motion is detected. It works for that long because the camera/recorder remains in a powered-down state until body heat and movement is detected. This saves an incredible amount of battery power compared to video-motion mode. When using this mode is there is a a brief delay from when motion is detected until recording starts because the camera must power-up before recording can begin.

Wireless Remote Control Included
Control recording modes, start/stop recording manually, plus access on-screen menus and other functions.
Live Video Output and Playback
Includes an analog video output with a mini video jack and mini-jack to RCA cable that when connected will show the live video and on-screen feature menus or playback recorded video files on a regular TV.

Digital Video Playback
The video files are recorded as AVI (H.264) so they can be viewed on almost any PC, Mac, or other devices using popular free software like Windows Media Player or Kmplayer and they can be easily edited by most video editors. Simply remove the Micro SD Card you are using to transfer the files.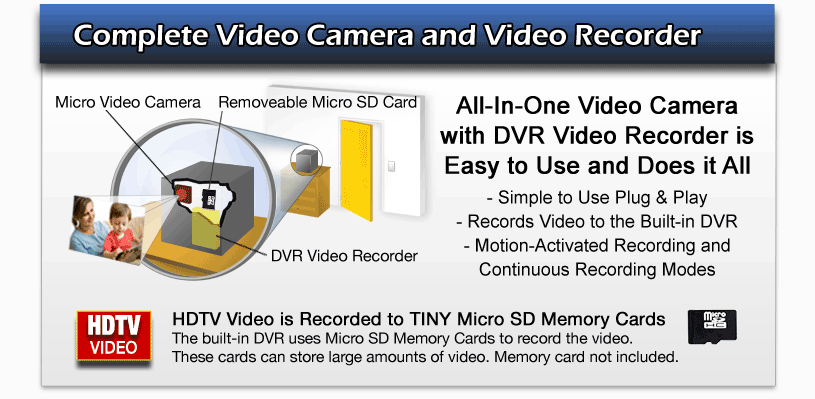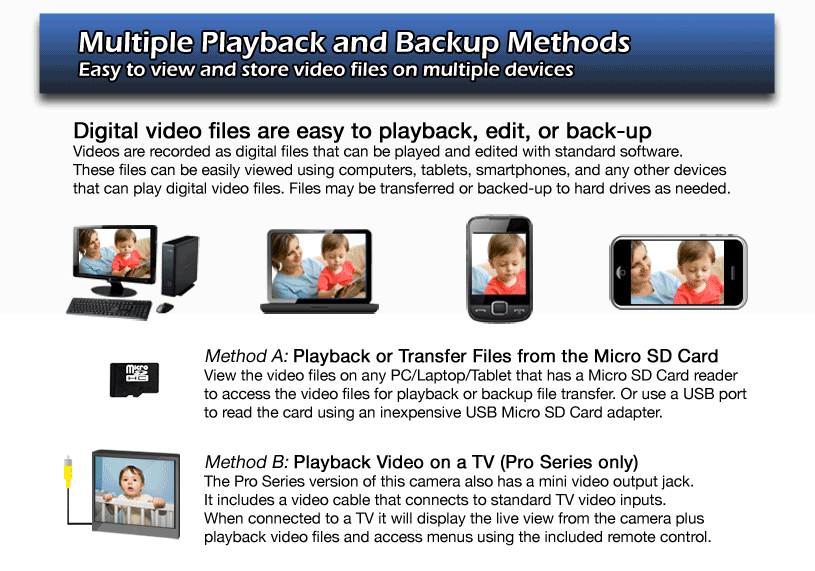 Camera Information
Camera Type
Advanced CMOS Image Sensor
Camera Resolution
HDTV 720p 1.3 Megapixel
Camera Low Light
Very Good

DVR Information
Recording Resolution
1280x720
Remote Control
Yes - Advanced
Time and Date Stamp
Yes
Motion Activated Recording
Yes - Advanced
File Type
AVI H264
Recording Location
Micro SD Card
Memory Card Size
up to 256 GB
HDTV Recording Rate
~ 2 GB per Hour
Standard Resolution Recording Rate
~ 0.75 GB per Hour
Photo Snapshot Mode
Yes
Live Video TV Output
Yes
Playback on TV with Video Out
Yes
On Screen Menus
Yes
Configurable Video Quality Settings
Yes
Format SD Card with Device
Yes
Configurable Recording File Length
Yes
Auto Recycle Storage Overwrite
Yes
Firmware Upgradable
Yes

Power Information
DC Power Requirement
5VDC
AC/DC Wall Power Supply
Yes (included)

Battery Information - Battery Life Using Motion Activated Recording Modes
Standard Battery (included)
Up to 4 Hours (Up to 7 Days Standby in PIR Mode)
Extra-Life Battery (optional)
Up to 16 Hours (Up to 50 Days Standby in PIR Mode)
Super-Life Battery (optional)
Up to 32 Hours (Up to 100 Days Standby in PIR Mode)

DVR Pro Series Sample Video
---
SEE THE DIFFERENCE!
Compare this camera to other Hidden Cameras
on the same screen at the same time with our:
---
Everything you need to make your own Pro-Series hidden spy camera
Flexible cables for all components makes installing the camera easy
Simple to Setup and Use
PC and Mac Compatible
1.3 MegaPixel CMOS Camera
Video Resolution 1280x720
Video Format AVI (H.264)
View Angle 90 degrees
Low Light Illumination 1 LUX
Data Transfer Interface USB 1.1 or 2.0
Memory Micro SD Card Max Size 256GB
Memory Consumption ~ 2GB/hour
Wall Power A/C to 5VDC Adapter included for full time power
Battery Power: Yes (see battery chart above)
Playback Software Windows Media Player or Kmplayer
Dimensions 1.5 x 1.5 x 0.25 Inches
Important Notes Regarding Use and Installation:
This kit should only be purchased or used by persons that are completely familiar with the proper handling, installation, and use of circuit-board level components.
The camera ribbon cable and other components of this item are very fragile.
This item may be easily damaged by impacts, electric discharges, static electricity, and short circuits caused by conductive objects or liquids coming into contact with the components.
Parts of this item will generate heat during charging and during normal operation.
This item should not be installed or used near any flammable materials or vapors
This item should not be installed or used in any enclosed area without adequate venting and/or heat sinks.
The use of incorrect power supplies, batteries, chargers, or other power sources may cause overheating and/or permanent damage to this unit.
---




DIY-DVR-V2

DIY-DVR-PRO

DIY-WIFI-DVR-LITE


Camera Information

Camera
Resolution
HDTV 1080p
HDTV 1080p
HDTV 1080p
Camera Low
Light
Good
Very Good
Very Good

Built-in DVR Video Recorder Information

Recording
Resolution
HDTV 1080p
HDTV 720p
HDTV 1080p
Frames Per
Second
30FPS
24 FPS
24 FPS
Time and
Date stamp
Yes
Yes
Yes
Motion
Activated
Recording
Yes - Basic
Yes - Advanced
Yes - Advanced
Recording
Locations
Internal: Memory Card
Internal: Memory Card
Internal: Memory Card

External: Phone, Tablet
Memory
Size
(Capacity)
Up to 512 GB (optional)
Up to 1000 GB (1 TB) (optional)
Up to 1000 GB (1 TB) (optional)
Memory
Card Speed

Class 10 or Higher
Class 10 or Higher
Class 10 or Higher)
User
Accessible
Memory
Card
Yes
Yes
Yes
HDTV
Recording
Rate
~ 9 GB per Hour
~ 2 GB per Hour
~ 1 GB per Hour
Field of View:
80°

90°

90°

Loop/Recycle Recording
No



Yes



Yes



Remote Control:
Yes
Yes
Remotely Controlled over App
Warranty:
12 Months
12 Months
12 Months



Live Remote Viewing, Recording, and Playback Methods

iPhone, iPad, Android Phone, Tablet
No
No
Yes - Free Advanced App
Windows PC, Laptop
Yes (Via USB)
No
Yes - Free Advanced App (with free emulator)
Video Playback
Computer
Computer
Computer, Mobile App
Internet Live View (WiFi):
No
No
Yes
Live View Methods:
USB to PC

TV or Monitor
Computer,iPhone, iPad,or Android Smart phones and Tablets

Power/Battery Information

AC/DC Wall
Power
Supply
Yes (included USB cord)
Yes (included AC cord)
Yes (included USB cord)
Battery Info

(More Info in the columns below)
Included rechargeable battery with
up to 4 hours total motion-
activated recording time and
standby time
Included rechargeable battery with
with up to 100 Days total
motion-activated standby time
in PIR mode
Included rechargeable battery with
up to 4 hours total motion-
activated recording time and
standby time
Battery Option Information:

Recording time (Continuously)
Up to 2 hours with Standard Life Battery

Up to 4 hours with Extra-Life Battery

Up to 12 hours with Super-Life Battery
Up to 2 hours with Standard Life Battery

Up to 4 hours with Extra-Life Battery

Up to 12 hours with Super-Life Battery
Up to 2 hours with Standard Life Battery

Up to 4 hours with Extra-Life Battery

Up to 12 hours with Super-Life Battery
Battery Option Information:

Recording time (Motion Activated)
Up to 4 hours with Standard Life Battery

Up to 16 hours with Extra-Life Battery

Up to 32 hours with Super-Life Battery
Up to 4 hours with Standard Life Battery

Up to 16 hours with Extra-Life Battery

Up to 32 hours with Super-Life Battery
Up to 4 hours with Standard Life Battery

Up to 16 hours with Extra-Life Battery

Up to 32 hours with Super-Life Battery
Battery Option Information:

Recording time (PIR Motion Activated)
N/A
Up to 7 days with Standard Life Battery

Up to 50 days with Extra-Life Battery

Up to 100 days with Super-Life Battery
N/A