Turret Style Security Cameras
The wall/ceiling mounting design of turret cameras combined with their small footprint and style make them desirable for almost any application.
Bullet Style Security Cameras
Bullet camera security cameras are very popular because of their small size and attractive styling. Many are weatherproof so they can be used outdoors or inside.
Dome Style Security Cameras
The best style cameras for ceiling mounted uses. Many have tinted domes so people cannot tell which direction the camera is pointing.
CS Box Style Security Cameras
Cameras with this design are a great visible deterrent. They are the easiest lenses to change if you need to get a specific shot.
Other Shapes and Styles
Don't hate them just because they're different, there are some great cameras in here with unique designs!

Which Style is Best?
Dome Cameras are popular because it is difficult to determine which way the camera is pointed by looking at the tinted dome lens. This way nobody can tell if they are in sight of the camera view.
Other styles have other advantages depending on the situation. If you would like help choosing a camera for your application call us today.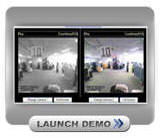 Compare Video Cameras
Side-By-Side with our Live Camera Demo!


FREE Video Camera Lifetime Tech Support Included!