Silk Plant Wireless Series Nanny Cam
This is our pre-hidden, wireless transmitting, covert Faux Plant spy camera and receiver set. Spy cameras are usually used as a pair of second eyes to watch over areas while you can't be around. The most common uses for a hidden cam are as a hidden nannycam or a spy camera. Many of our customers use these hidden cameras to watch over their loved ones while they're away at work or on vacation, or to safeguard their valuables.
We hide the built in camera and transmitter so we'll, you can put this item in any room without the risk of being discovered (the camera is hidden in the wicker basket part of the enclosure). This Faux Plant looks just like any average household plant would, making the hidden camera blend into its surroundings by being extremely covert. This gives those who are being watched less of a chance to discover the hidden camera.
Setup is easy. There are no wires to run. Simply plug it in to a wall outlet for power (or use the optional rechargeable batteries). The built-in camera and wireless video transmitter will then be working all the time and the video signal can be picked up by the video receiver(s).
The standard mini wireless video receiver can be used up to 300 feet away from the camera. It can be connected to other devices for live viewing, recording, or playback. It can be connected to any device that has an analog video input. Normally it is connected to a DVR or VCR or a different type of video recorder (and/or a TV).
An optional/upgrade all-in-one wireless video receiver with 5" color LCD monitor and built-in DVR video recorder is also available. It can be used up to 300 feet away to view live video on the built-in 5" LCD Monitor (or external TV) and/or to record video to the built-in DVR. The recorded video files can be played-back later using the built-in monitor, or it can be connected to a larger TV, or the video files can be viewed on a computer or other device.
The maximum range for the wireless signal listed is line of sight (with no obstructions between the camera/transmitter and the receiver). When used indoors the wireless signal will generally work through a few interior walls/ceilings/floors made from wood and drywall. The range will be reduced significantly and may not transmit at all through dense materials such as brick, concrete, and especially metal.
Includes silk plant with built-in hidden camera, built-in wireless 5.8 GHz video transmitter, mini 16 channel 5.8 GHz video receiver, power supplies, and receiver connecting cables.
---
This model is the Wireless Series. This type of "wireless video" works well for some situations but there are newer models available that are better for most applications
DVR Series Hidden Cameras - NEW! All-In-One Camera with Built-in DVR Video Recorders
WiFi DVR Series Hidden Cameras - NEW! Same as the DVR Series PLUS Live View/Playback/Record using iphone, ipad, android smartphones, tablets, and PC's
---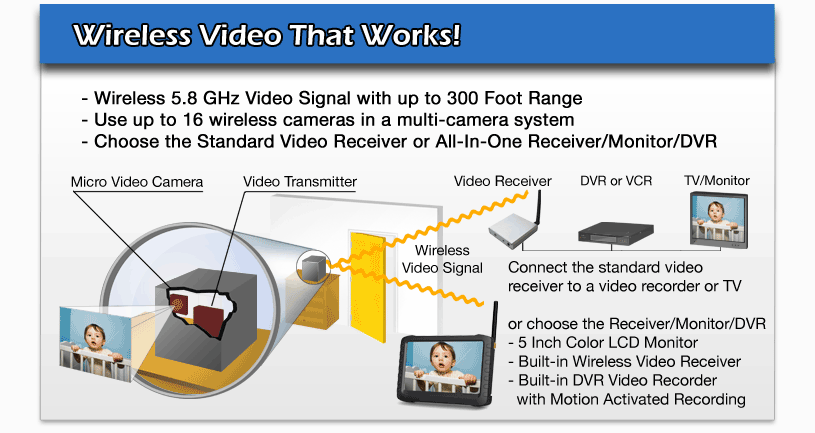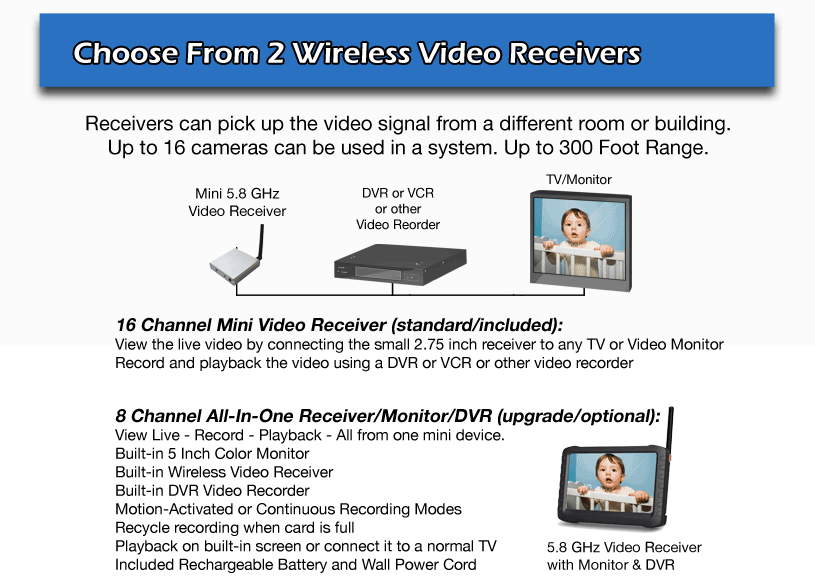 Hidden Camera Enclosure Information
Item description
Silk Plant

Built-in Video Camera Information
Camera Type
Color CMOS
Camera Resolution
480 TV Lines
Camera Low Light
.08 Lux

Built-in Video Transmitter Information
Wireless Video Range
up to 300 Feet
Wireless Channels Available
16 Channels
Wireless Frequency
5.8 GHz

Included Wireless Receiver Information
- Standard Mini Wireless Video Receiver

- Each wireless hidden camera includes one matching mini 5.8GHz video receiver

- Multiple pairs of cameras and receivers can be used on 16 different channels

Wireless Video Range
up to 300 Feet
Wireless Channels Available
16 Channels
Wireless Frequency
5.8 GHz
FPS Frames Per Second
30
DC Power Requirement
5VDC
Wall Outlet Power Supply
Included
Receiver Analog Video Out
Yes
Receiver Dimensions
2.75" x 2.75" x .65"

Optional All-In-One Wireless Receiver + Monitor + DVR Video Recorder - Click Here to View
- Upgrade to the all-in-one Receiver, Monitor, DVR

- Record, Live View, and Playback on one compact device

- Motion Activated Recording or Continuous Recording Modes

- Battery and Wall Power Included

Video Screen Size
5" LCD
Screen Display Resolution
800x480 Pixels
Built-in DVR Video Recorder
Yes
Recording Storage Capacity
Up to 32 GB Micro SD Card
Loop-Recycle oldest video when memory full
Yes
Continuous Recording Mode
Yes
Motion Detection Recording Mode
Yes
Wireless Frequency
5.8 GHz
Wireless Channels Available
8 Channels
Wireless Video Range
up to 300 Feet
DC Power Requirement
5VDC
Wall Outlet Power Supply
Included
Battery Power
Included
Analog Video In
Yes
Analog Video Out
Yes
Receiver Monitor Dimensions
5" x 3.5" x .75"

Wireless Series Sample Video
---



SEE THE DIFFERENCE!
Compare this camera to other Hidden Cameras
on the same screen at the same time with our: